Sandi
Sandi has been a member of the Office team since 1978. She brings a wealth of background knowledge with her since she is a Registered Nurse as well as a Registered Dental Hygienist. She can also be found filling in at the front desk and calling patients who are due for their check-ups. Sandi thoroughly enjoys her work and she believes each and everyone is special and unique!
Edna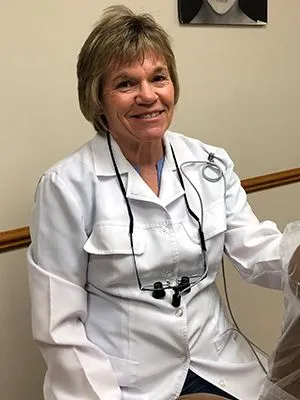 Edna has been a member of the Office team since 1996. After graduating from Loma Linda University in 1984, she volunteered for one year with a Dental Mission Team in Cameroon, West Africa. Upon returning to the U.S., she has worked in General Dentistry, as well as in Periodontal & Pedodontic Offices. Edna brings a calming and pleasant demeanor to the office every day. Edna says, the best part about working in Dr. Schmid's Office is getting to know each patient individually, and relating their dental needs to their overall health needs.
"In Dr. Schmid's practice, he treats patients the way his family would be treated which is excellent care. Because we are a smaller private practice, the patients are usually treated by the same people each time they are in. There is a friendliness and atmosphere in the office that is unique, and the patients recognize that. Dr. Schmid and his staff excels at building relationships with his patients and their families and finding resolutions to their dentistry needs."
Patti
Patti joined the Office staff in 2004 as a Dental assistant. She quickly learned the skills of chair-side assisting, and with her previous experience in work as a travel agent, she easily cross-trained into the job of Office Coordinator as well. She expertly files and processes insurance claims, and she will most likely be the one to answer your phone calls and book your appointments. Patti will do her best to answer any questions you may have, and enjoys the variety that each day brings to the Office.
"This dental practice offers a family atmosphere where patients feel welcomed, receive excellent care and all the details they need to make an informed decision. Dr. Schmid is invested in and genuinely cares about his patients. He also always wants his patients to feel comfortable and encourages patient interaction during each procedure."
Lori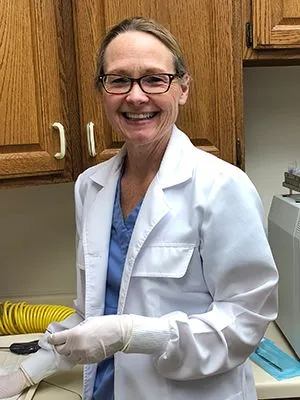 Lori joined the Office team in 1989 as a chair-side assistant. Along with her excellent skills in four-handed dental assisting, Lori brings with her an A. S. Degree from Southern Illinois University, Carbondale, in Dental Laboratory Technology. With her knowledge and experience in dental laboratory procedures Lori brings the expertise needed to provide excellent care to each of our patients.
"I used to work at a dental lab that Dr. Schmid utilized in his practice and his work was always some of the best we received. I have worked with him for almost 30 years now. He treats his patients as a friend and provides genuine patient care. He does the little things like walking each patient to the desk. Dr. Schmid encourages interaction during each of his procedures which puts the patients at ease. There is a team approach to patient care that is as meticulous around the office as it is in the patient's mouth."
Shelby
Shelby joined the Office team in 1996 as a chair-side Dental assistant. Along with her excellent skills in four-handed dental assisting, Shelby often is the one to take the initial x-rays on our new patients. Shelby brings a lot of joy and laughter to the Office because she loves to look at snow, and if you ask her, she will tell you it needs to happen here, 365 days a year! Her favorite day of the year is Christmas!
"Pleasant atmosphere with a great team that feels like a small family. Very family orientated, not managed by a corporation. Dr. Schmid suggests conservative approaches first and always does only what's needed. I have been told by several patients; "I'm not sure what I am going to do when Dr. Schmid retires…I have been coming here since I've been a kid. I trust only Dr. Schmid!" Each patient is personalized, and he is loyal to them. He keeps the patients informed and offers numerous choices. He won't do the work that can't be performed, rather, he lets the specialist do it."
Jesse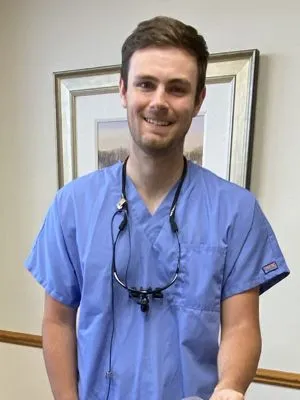 Jesse joined the staff in May of 2021 as a Registered Dental Hygienist. Born and raised in Freeport, he attended Highland Community College, and then transferred to Rock Valley College to attend their Dental Hygiene program from which he graduated in May of 2020. Jesse enjoys getting to know his patients while educating them about oral health, preserving their teeth, and maintaining their smiles.
"Jesse is enjoying working at Dr. Schmid's Office. He says, "The Office has a friendly and welcoming staff. All the staff is very compassionate and treat the patients like family. Dr. Schmid truly lives by the philosophy of 'treat others how you want to be treated.' You can see that in the way he treats and cares for his patients."